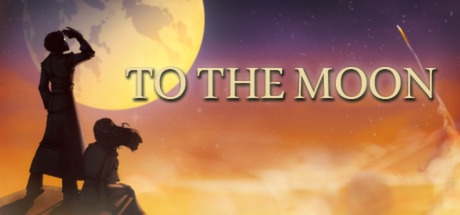 Difficulty:  Easy
Gameplay Score: 4/5
Graphics Score: 1/5
Music: 5/5
To the Moon is a single player game puzzle game that is story-oriented. The game is set in a world where the player controls two employees from the Sigmund Corporation where they have the technology to create artificial memories for dying seniors so that they may live out their dreams. In order to do so, they must travel back through the memories of the patient to make the necessary changes to his/her memories. Their job is essentially to help dying patients fulfil their lifelong dreams that they were unable to complete in their lifetime.
The nature of the game is very simple. The player has to walk around the memory and find 5 objects that serves as a key to the next memory. After finding the 5 objects, you 'break' the portal object and you will be prompted to do a puzzle. The puzzle is a simple complete the picture activity. I will note that the 'game' is much less a game as it is a story. I personally do not mind the simple puzzles because it doesn't take away from the story and rather just prompts the player to do some simple mind exercise.
Dr. Eva and Dr. Neil are the two employees that you control throughout the game, their dialogue is funny and engaging and serves a comic relief as they travel through the memories of the dying patient Johnny Wyles. His lifelong dream is to travel to the moon however when asked why, his reply was, "I don't know why. I just do."
SPOILERS PAST THIS POINT.
---
The memory travels begin with the most recent memory of Johnny. There Eva and Neil talk to the aging Johnny, asking him why he would like to go to the moon. His response, "I don't know, I just do." Eva informs him that in order to do so, they would go back in time to his earliest memories and seed the desire to go to the moon that will allow him to become an astronaut.
As they travel farther and farther back they discover his wife River, died recently from an illness. The curable illness that River chose to not treat so that Johnny would have enough money to continue building the house next to the Lighthouse. Random objects were discovered around the house. River had folded hundreds of paper rabbits and was obsessed with a stuffed platypus. Earlier memories of Johnny showed that he had asked River about her obsession with folding paper rabbits and the platypus but she never replied.
One day, River made a yellow and blue rabbit and placed it near Johnny. She asked him, "What do you see in this rabbit?"
"It's made out of paper…"
"And?"
"It's blue and yellow"
"And…?"
"Theres…not much else"
River just continued to fold her rabbits. Johnny notes that he feels as though he owes her something and that he's missing something.
As Eva and Neil travel farther back in time, they realize that River has Aspergers Syndrome. A condition that prevents her from explaining herself fully and lacks many social skills.
As the story travels back to the elementary school age, they find the moment where Johnny asks River out to the movies. It's revealed that he asked her out at school because he felt sorry for her and found her interesting and that this was the first time they interacted. He tells River this after they got married. River immediately began folding paper rabbits and cut her hair short in response to what he said. Frustrated and not understanding why River began folding rabbits and her obsession with the stuffed platypus, Johnny began to get more anxious. This ultimately caused the marriage to be full of frustration and discontent.
When Eva and Neil attempted to access the earliest memories, they found that the memory was fragmented. So they decided to skip the last memory and just seed the desire to go to the moon at the elementary school period. Unfortunately, it didn't work even though they tried to implement the desire at different parts of his memories (very hilarious moment in the story).
Tired and frustrated at their failure, Eva and Neil exited his memories and wandered around the house. Eva stayed on top of the Lighthouse that River affectionately named Anya. At sunrise, Eva went back into the mansion and the doctor informed her that Johnny's condition was getting worse and that they will need to complete their memory change as soon as they can. Eva went downstairs to find Neil to see that he was in a phone call.
"Why were these records not revealed to us?" he said in the call.
Apparently Johnny is on beta blockers that prevent his access to certain memories. This apparently is what caused the memory fragmentation.
The next puzzle is another comic relief moment where they have to find a way to trigger Johnny's early memories by finding roadkill.
The final memories were during Johnny's toddler years. The final piece of the puzzle that puts everything together.
Johnny had a twin brother named Joey who was killed by his own mother by accident as she was backing out of the garage. In an attempt to protect her surviving son, Johnny's mother gave him beta blockers and prevented him from accessing any memories from this period. Eva and Neil silently travels back one more time.
The last memory was at a carnival. There, Johnny was having fun with his brother and mother at the games. Johnny won a stuffed animal while his brother won a toy train that he coveted. Angry, he walked away from his mom and brother decided to run up the hill. As he sat on the log, a young River walks up to him. When she tried to run away, Johnny chased after her and talked to her. Together they watched the moon and the constellations. River told Johnny that she saw a rabbit in the sky. As he looked he saw it. The moon was the belly of the rabbit, the other stars made up his ears, tails and feet. When Johnny's mom called for him, he gave her the platypus that he had won and that they would meet back at this spot the next year.
"What if you forget or get lost?" River asks
"Then we'll meet up at the moon!" exclaimed Johnny.
Eva realized what must be done and removed River from the later memories of Johnny and revived Joey. All the while, Neil didn't understand her actions of removing River, Eva attempted to set up obstacles for Neil (the player) to jump through.
At the end when Johnny was at NASA for his training to become an astronaut, River walks through the door. At its conclusion, the story wraps up as the two fly to the moon together on the space shuttle holding hands.
At the same moment, Johnny's heart stops beating.
---
I would like to say that this is one of the most bittersweet stories I've ever read. While Johnny was able to die believing that his life was fulfilled, River had to die never seeing her husband remember the first time they met on the cliff. Her Asperger's prevented her from explaining herself and she could only fold hundreds of paper rabbits and cut her hair to try and trigger Johnny's memories. Unfortunately the beta blockers were too strong. The residual feeling of the accident still haunted Johnny but he never understood why.
I would recommend it to anyone who wants to journey through a touching and poignant story. Most importantly, perhaps it will even make you cherish those around you more closely.
Let me know thoughts if you've played it, Stranger!